About
The history of Rohlf's Stained & Leaded Glass Studio spans a century and four generations. In 1934 Hans H. Rohlf purchased the Stained Glass firm of Emil Teitz from his estate; the firm was originally founded in 1920. Rohlf's Stained & Leaded Glass Studio, in the early years, provided large amounts of zinc, beveled and turn-of-the century Stained & Leaded Glass windows. In our later years, Rohlf's Stained & Leaded Glass Studio expanded into religious and secular buildings in both new stained & leaded glass window designs, as well as stained & leaded glass restoration.
Today, Rohlf's is run by three generations of family members and is one of the largest stained glass window firms of its kind, having completed major window installations at Yale University in New Haven, CT, Cathedral of St. John the Divine and St. Patrick's Cathedral in NYC, and Seibu Shopping Mall in Nagoya, Japan, plus literally thousands of commissions worldwide involving stained & leaded glass windows.
Our reputation, integrity, and longevity allow us to accept the challenge of providing the artistic requirements and preservation expertise to secure your confidence. We apply our professional knowledge to complement the architecture, to beautify and to conserve your edifice.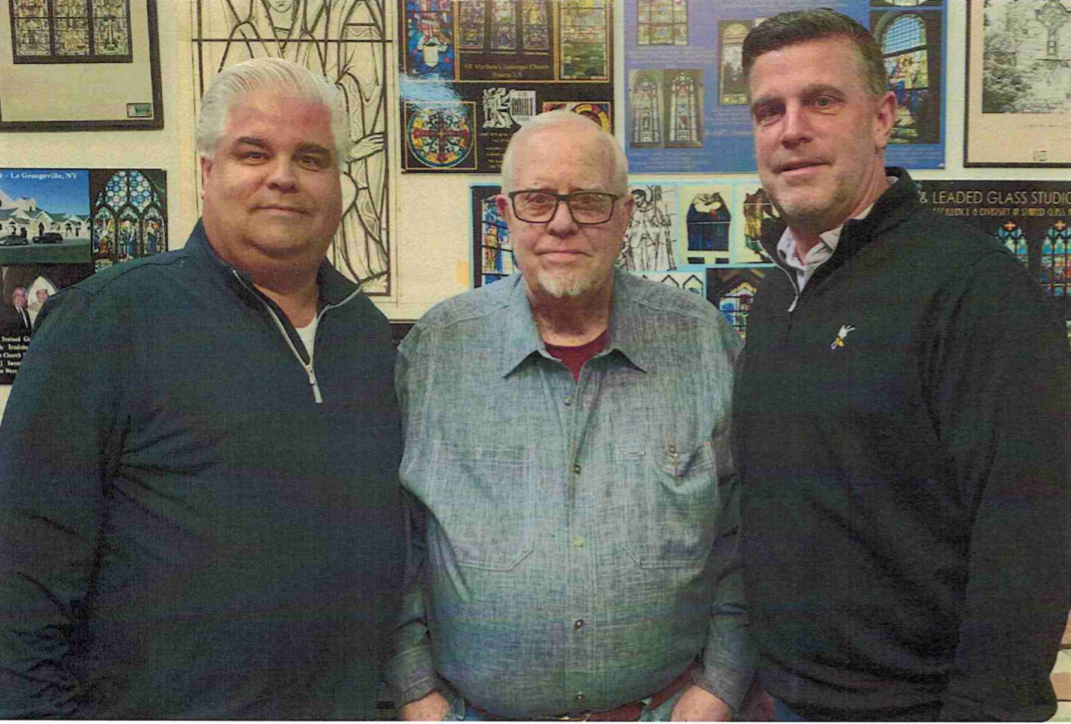 Peter A. Rohlf, CEO (center) with his two sons, Peter Hans, President (left) and Gregory, Vice President (right).
Expansion
Back in 1981, Rohlf's Studio acquired the George L. Payne Stained Glass Studio of Paterson, NJ, which was established in 1896, making our combined history one of the oldest stained glass establishments in the United States.

Our Staff and Facilities
Our solar powered studio's facility has over 15,000 square feet along with our 25 craftspeople, artists and office personnel who oversee the day to day operations. Areas of the studio include CAD and printing, layout, art room, full scale copying equipment, 8′ x 16′ selecting bench, three (3) painting areas, five (5) kilns, twelve (12) work benches and separate waterproofing facilities. There is also a restoration area for photography, rubbings, wet room and stripping.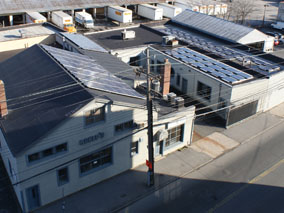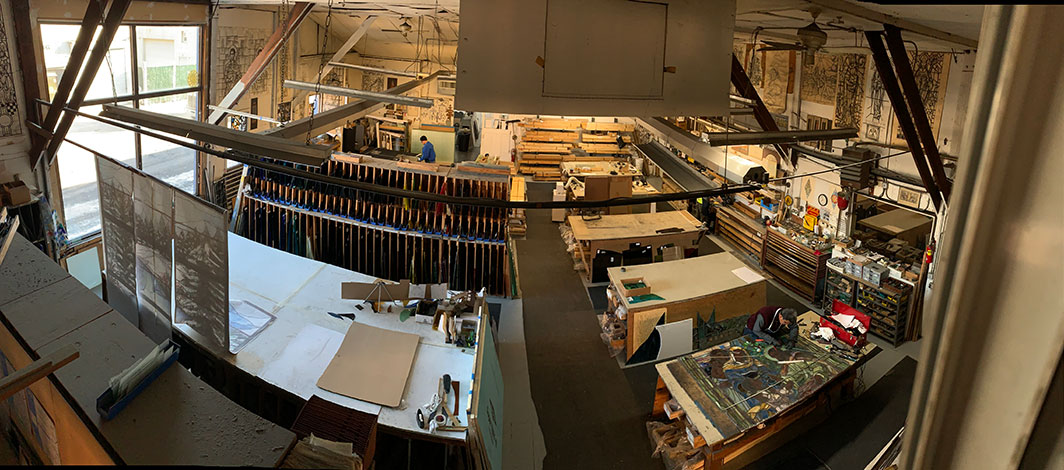 Partners
Rohlf's Studio has also been privileged to work alongside some of the most gifted artists, artisans, and conservators associated with our craft.
One such individual was Frederick Cole who was knighted by The Queen of England for undertaking the restoration of Canterbury Cathedral as an artist in residence and one of the most recognized and revered stained glass designers. Mr. Cole was the lead stained glass designer for Rohlf's Studio for over 13 years. Peter A. Rohlf, CEO, was honored to have gone through the stained glass restoration workshop at Canterbury to further his knowledge of the procedures of conservation and restoration of stained glass.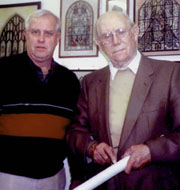 Peter A. Rohlf, CEO with Artist Frederick Cole, Fellow of British Society of Masters & Glass Painters
From Concept to Completion
We are dedicated to the principals and traditions of Old World craftsmanship and endeavor to attain the highest quality of our craft. Our commitment is to provide the highest quality, leaded and stained glass windows available anywhere.
Our vision begins with a deep understanding of your required needs, and our attention to execute, with the highest degree of craftsmanship. To accomplish these results, we use the finest tools and techniques, from old-world stained glass craftsmanship to modern computer-generated shop drawings. Rest assured that the aesthetics and engineering that we design into each window is our pledge to the strength, functionality and beauty of our product. The drive for excellence and satisfaction is the measure of quality that is the unifying force behind Rohlf's Stained & Leaded Glass Studio.
Our expertise provides architects, contractors, institutions, homeowners and the religious community with a professional and reliable staff of artisans to guide you through any of your Stained & Leaded Glass window projects. We provide diversity in Stained Glass Art and preserve America's heritage through Historic Restoration and Preservation of Stained and Leaded Glass.
Custom designed and painted Rohlf's family crest (shown).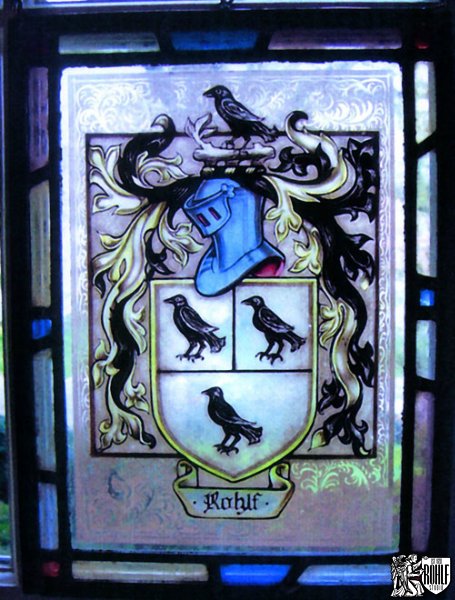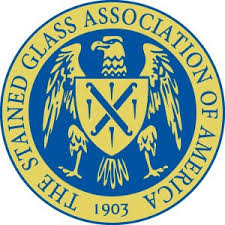 Lifetime Achievement Award
In 2003, Peter A. Rohlf was awarded the Lifetime Achievement Award from the Stained Glass Association of America "In recognition of his dedication to preserving the heritage of a family studio, his commitment to honest and fair business practices and his respect and support for stained glass artists and craftspeople around the world". It is with dedication to our craft that we can offer our clientele the knowledge that we have acquired from the past and our present experiences, which have enabled us to progress. We have been fortunate to have been chosen to conserve some of the most prestigious cathedrals, religious edifices and institutions in the United States and around the world.