Restoration, Preservation & Conservation
Stained Glass restoration today takes on a different level because many of the stained glass windows here in the United States are over one hundred years old. Over the years there has been an abundance of European stained glass from Germany, England and France along with early U.S. stained glass from Lamb, Payne, La Farge, Tiffany and Armstrong, to name a few.

When viewing a restoration project of 100 year-old windows or older, it is important to have the expertise of a studio with the conservation knowledge to understand the approach needed for a successful restoration.
Rohlf's Studio has the technical know-how and materials which have been used on all of the above-mentioned historic stained glass windows. Some of these windows & procedures can be viewed at our Stained Glass Window Restoration Gallery and on YouTube.
The approach and specifications which we adhere to are as follows:
A. Surveys, documentation and in situ photography
B. Recommendations for removal, in-studio photography and information denoting all cracks, broken glass and bad repairs.
C. Make rubbings indicating lead sizes, lead profiles, and size of each section.
D. Recommend additional support systems where the stained glass sections have failed, but do not intrude upon the original design.
E. Check for paint stabilization before bathing each section to soften old putties and lead
F. Strip old leads and discard properly, cleaning each piece of glass with a soft brush and dry with cotton cloths. (Rohlf's Studio recycles old leads)
G. Edge glue all cracked and broken pieces where possible using fully reversible epoxies.
H. Consult with conservationists, architects or committees to proceed.
I. Replicate missing or badly broken pieces and inscribed with date and name of studio.
J. Re-lead designated sections with the same lead profiles as original using restoration grade lead cames. Solder with 60/40 solder.
K. Waterproofing is performed by using an organic glazing compound of Soya and Marine oils. Putties are fingered under each of the lead cames, front and back. Excess putty is picked off with a wood dowel and whiting with lamp black is used to remove any of the residue from the putties. A soft scrub brush is then used to burnish the leads.
L. New 14 gauge copper wires are then soldered onto each of the existing reinforcing lines indicated on the rubbings and tied around the refurbished saddle bars during installation.
M. Installation of the stained glass today often occurs with either a vented system in the stained glass or in the protective glazing (to be determined before glazing).
N. The stained glass is installed with a Silicone sealant which allows for expansion and contraction or if specified, an isothermal installation.

It should be noted that an individual approach to each and every type of stained glass needs to be analyzed for a successful conservation project.
Rohlf's Studio is one of America's most respected stained glass studios for historic preservation, having restored some of America's finest cathedrals, houses of worship and institutions. We look forward to soliciting your inquiries and to assist in preserving & conserving your historical stained glass.
Grand Central Terminal largest clockface by Tiffany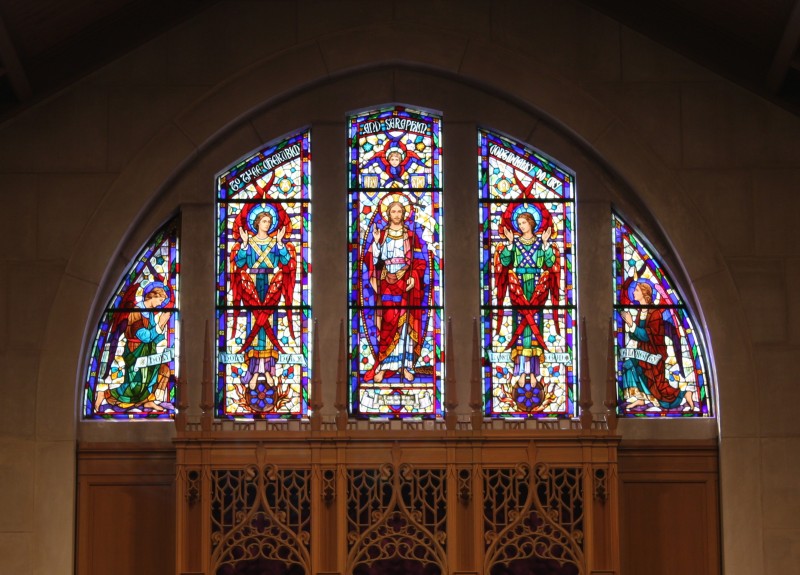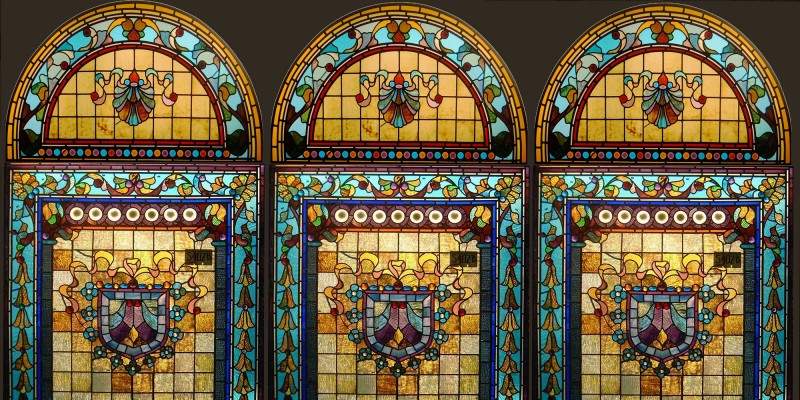 Restored 20 historic stained glass windows for the New York State Capital Assembly Chamber in Albany, NY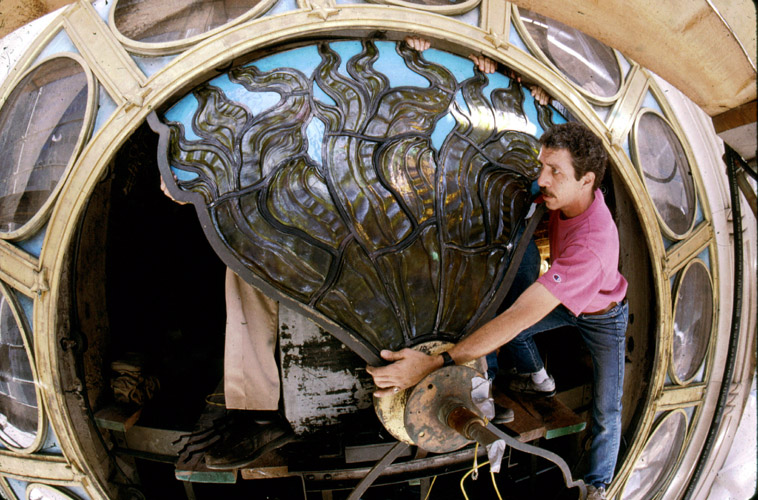 Grand Central Terminal largest clockface by Tiffany on the south elevation.